The Bombpops
The Last Gang, Cheap Perfume
Black Sheep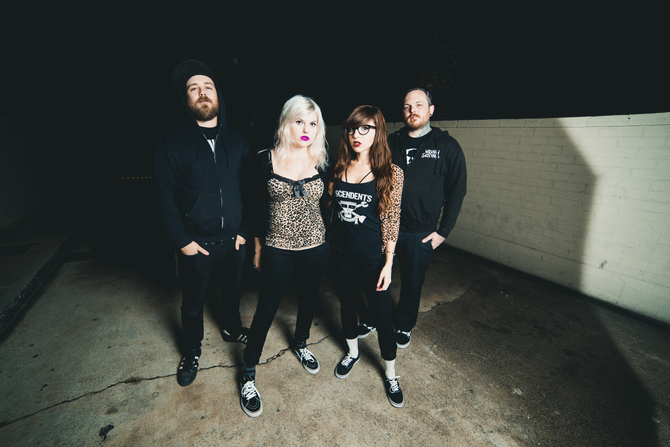 Artists
The Last Gang
Orange County's The Last Gang made their Fat Wreck Chords debut with the two-song 7-inch
Sing for your Supper. And while The Last Gang may seem like a new band, their history is rife with chance encounters
that led to big breaks. The band originally formed in 2007, with vocalist-guitarist Brenna Red leading the band and
playing the kind of '77 punk that allowed them to tour with the Anti-Nowhere League and Dwayne Peters Gunfight.
But in 2012, shortly after drummer Robby Wantland joined, The Last Gang put their guns down and called it a day.
Thankfully, that didn't last long.

Reformed by vocalist-guitarist Brenna Red and drummer Robby Wantland the pair developed the sound that would
become The Last Gang, a mix of tough-as-nails punk and bouncing melodies. As they rotated through bass players,
the band quickly found themselves being asked to contributeto the Rancid tribute compilation Hooligan's United. But
due to some email based mishaps, they'd be under a time crunch. "We found out we were gonna be on it the day
before the deadline," says Red. "Long story short, we learned and recorded the song in one day." But that one song
—and the music video that accompanied it—would be the jumpstart the band needed. Before long, they'd find a
permanent bassist in Sean Viele, and The Last Gang would hit the road, a handful of releases, and become a more
dominant force than ever before. As the band prepped new material, another chance encounter would give the band
an even shot in the arm, as Wantland ran into producer Cameron Webb (NOFX, Motörhead, Alkaline Trio). Soon,
Wantland would find himself in Webb's studio, playing the esteemed producer some of The Last Gang's songs. "I
played him the demos and he was like, 'Holy shit. Do you guys have a manager or anything?' It wasn't really my intent
to con him into liking my band or anything, but it was a dream," says Wantland. With their lineup solidified, and a
producer on board, The Last Gang went into the studio with Webb to record some songs. And as The Last Gang was
just about to head out on a tour of England, minutes before they were up in the air, they got a call from Erin Burkett.
"We're getting ready to go to England, we're at LAX, and Erin calls us and says she wants to sign us," says Wantland.
It's the kind of story that you'd expect in a Hollywood movie instead of a punk band's origin story, but it's the product of
years of hard work and dedication—and the fact that The Last Gang is a band worth getting excited about.

When Sing for your Supper hit, that infectious energy spread all the more once people drop the
needle on the 7-inch. More than just a teaser for the 2018 full-length, the two songs serve as a perfect introduction to
The Last Gang. The title track is the kind of palm-muted ripper that made
Rancid famous, with a bouncing bass line, a huge hook, and airtight songwriting that'll get stuck in your head for years
to come. And the B-side, which is exclusive to this release, is no less throttling. From the jump, the song whips up a
frenzy, shifting directions on a dime but never losing sight of The Last Gang's pop-indebted ethos. After years of grinding
it out, Sing for your Supper is the distillation of The Last Gang's dedication, passion, and hunger. And for those looking
for your new favorite punk band, look no further.
Cheap Perfume
Cheap Perfume is a feminist punk rock band that formed in 2015 in Colorado. They're fun. They're angry. They're dirty, foul-mouthed and unapologetic.