Rage Fest
Attila
He Is Legend, Islander, Crown Magnetar
Black Sheep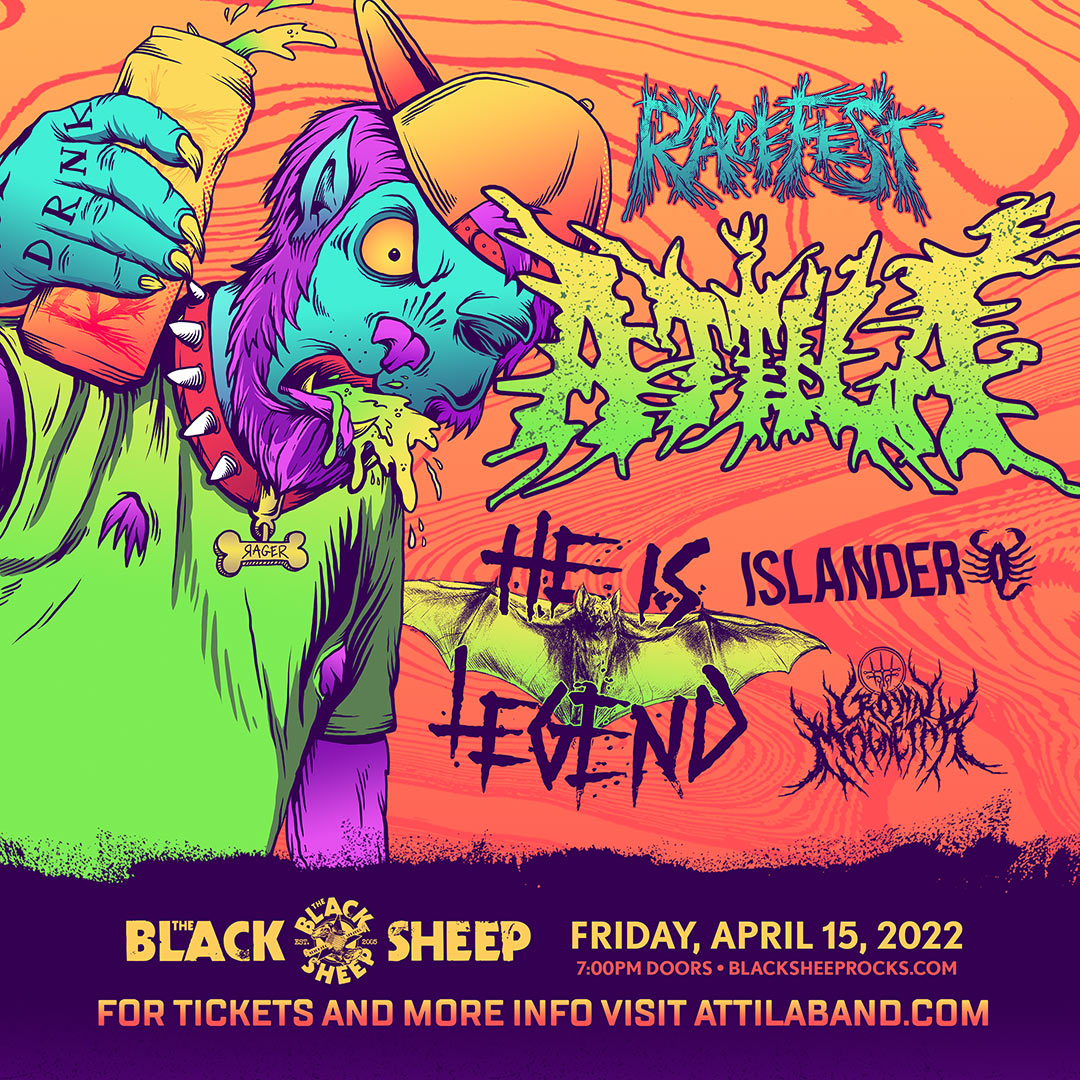 Artists
He Is Legend
It must feel good to say out loud...
"We're a rock band at the heart of it all," exclaims He Is Legend frontman Schuylar Croom. "We live for the hour on stage every night. Right now, we have this newfound positivity when it comes to our music and group. We're really inspired. We pulled a gem out of two years on the road, ups, downs, and crazy things going on."
That gem arrives in the form of the group's sixth full-length and second for Spinefarm Records, White Bat. The quartet—Schuylar, Adam Tanbouz [lead guitar], Matty Williams [bass], and Jesse Shelley [drums]—positioned themselves to make such a statement since forming in 2003. Bolstered by a cult fan base, their discography encompasses I Am Hollywood, Suck Out the Poison, and the seminal It Hates You. 2014's Heavy Fruit notably garnered praise from the likes of Alternative Press, Revolver, New Noise, and Ultimate Guitar, among others. MetalInjection bestowed a glowing 9-out-of-10-rating upon the crowdfunded Few in 2017, describing it best, "Let's cut right to the chase: He Is Legend is one of the most underrated and under-appreciated bands in all of metal." Along the way, the boys would share the stage with everyone from Killswitch Engage and Sevendust to Gwar and Underoath.
This longevity and brotherhood set the stage for the next chapter.
Islander
A throwback to the emotional alt-metal of bands like Deftones, Glassjaw, and Far, Greenville, South Carolina's Islander merch driving metal with soaring emo to create their ripping sound. Made up of singer Mickey Carvajal, guitarist Andrew Murphy, bassist Chris Doot and drummer Eric Fraizer, the band was founded in 2011. In 2013, Islander were signed to Victory Records, where they released their debut EP, Pains., later that year. Continuing to build hype, Islander went into the studio with Alkaline Trio and Silverstein producer Cameron Webb to record their full-length debut Violence and Destruction. The album arrived in 2014, with the band setting out on the 2014 Mayhem Festival to support it. Early 2016 saw the release of a new single, "Darkness," in anticipation of the band's sophomore studio long-player, Power Under Control, which dropped later that August.
Crown Magnetar
With a unique combination of tech, core and death elements, Crown Magnetar emerged in 2017 showcasing technical riffs, relentless blast beats and crushing yet dynamic vocals. They released "The Prophet of Disgust" EP in 2018 and released their debut full length entitled `The Codex of Flesh` on April 30th, 2021.