The Mountain Goats
Laura Cortese & The Dance Cards
Black Sheep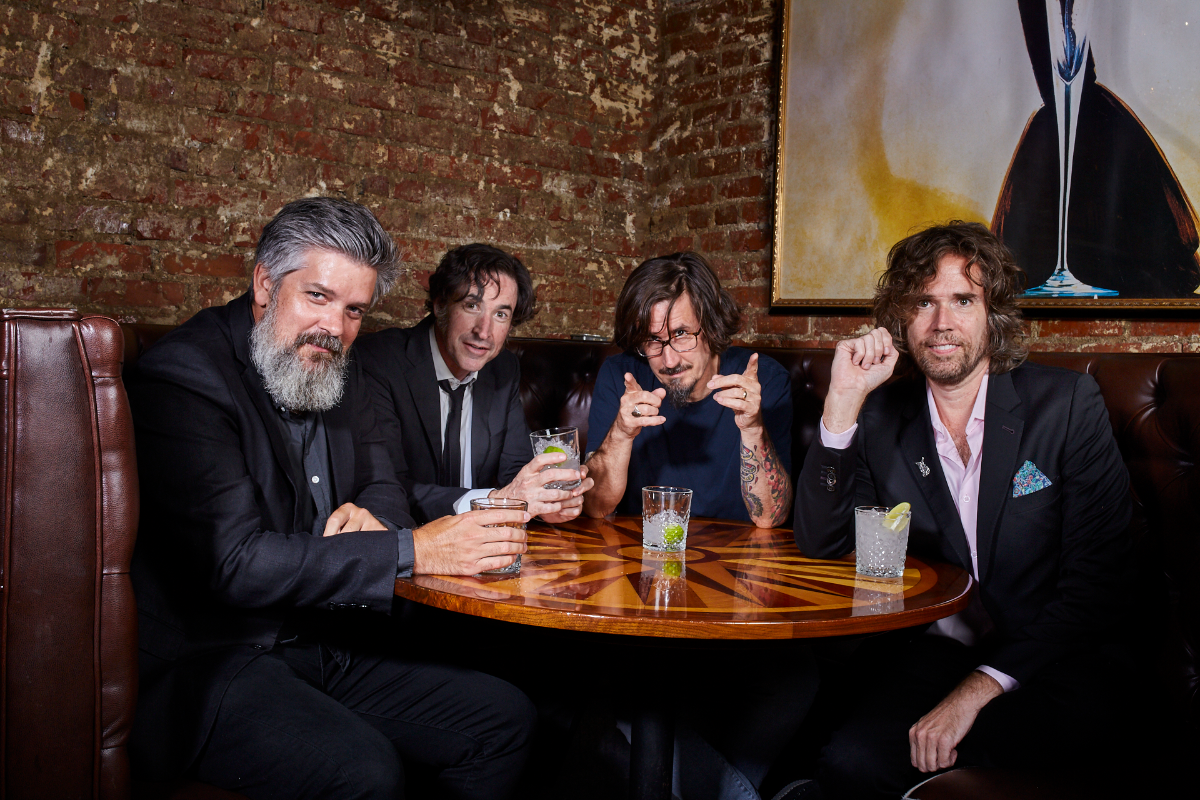 Artists
The Mountain Goats
At last it can be told: the story of how, when the Mountain Goats got together in early March, 2020, it was to make not one album, but two. That's how many keepers our superhumanly prolific frontman, John Darnielle, had come up with since we'd recorded In League With Dragons in Nashville back in 2018.The idea this time around was to work with Matt Ross-Spang, the dashing Memphis wunderkind who'd engineered that album and charmed us all with his gentle wit and old-school savoir-faire. (It's hard not to be won over when you go to record a part and the voice coming through the headphones drawls, "You ready, Bubba?") Matt's pitch was for us to spend a week at Sam Phillips Recording, his home base in Memphis, followed by another at the equally storied FAME Recording Studios down in Muscle Shoals, Alabama, a plan that dovetailed nicely with John's notion of corralling these songs into two complementary batches, a sort of yin and yang, one light, one dark. The Memphis album—Getting Into Knives, which came out last October—would be brighter, bolder, marked by rich and vibrant hues; the Muscle Shoals one—Dark in Here, set for release on June 25—quieter, smokier, but more deeply textured and intense. Something like that, anyway.It's funny looking back on it now. I remember driving down to Memphis on the last day of February and definitely being aware of this "coronavirus" story on the horizon. We'd been hearing about it for weeks. But the big thing I was thinking about? The possibly world-changing event on my radar? Don't laugh. It was Super Tuesday. The Democratic primaries. Like, "Oh man, we're gonna be in the studio working when Super Tuesday happens! How crazy will that be?"Literally a year and a week ago as I write this. What children we all were!By the time we got to Alabama, it was clear that the ground around us was quickly shifting, and that the world to which we'd be returning afterwards would be an unrecognizable one. But the studio, even during completely ordinary times, is a singularly immersive thing. You're basically in a bubble with a handful of your closest friends, working 12 hours a day, so focused on the task at hand that most of the time you forget that the outside world even exists. So it wasn't a huge leap to go from being—to borrow the Hold Steady's phrase—sequestered in Memphis to finding ourselves effectively, in the moment's suddenly ubiquitous parlance, quarantined in Muscle Shoals.We were all, of course, well aware of the mythos surrounding FAME before we arrived. I'd recently rewatched the Muscle Shoals docu ment a r y, and heard Bono intoning profoundly about "the music in the river" and how the songs "came out of the mud," and indeed when we went down to the shore of the majestic Tennessee across from where we were staying, there actually was a busted old reel of magnetic tape sitting there amongst the rocks. "Guys! Guys! I found one of the songs!"What you don't get from the movie is that while FAME might one day have been surrounded by cotton fields, it today sits between a CVS and a Pizza Hut. No matter. The second you step inside the building you enter a genuine time capsule, transporting you instantly if not to its early '60s origins and heyday then to its louche mid-'70s after-party. The vibe is completely authentic and very, very palpable. The room we set up in is the room where Percy Sledge sang "When a Man Loves a Woman," where Etta James tracked "Tell Mama," where Aretha Franklin recorded "I Never Loved a Man (The Way I Love You)." The Wurlitzer with which Spooner Oldham opens the last? It's sitting right there. It's been sitting there since 1967.Matt made sure that Spooner Oldham was there, too. Spooner is living musical history, having played with everyone from Bob Dylan and Neil Young to Linda Ronstadt and Liberace, for crying out loud. Seriously, look up his credits, they're insane. People who've worked with Spooner invariably describe him as "a trip," and when you meet him you see why. He's affable, a little spacey, full of unbelievable stories, and he never plays the same part twice. Spooner is all over Dark in Here—any time you hear a bit of Hammond organ or electric piano chiming in without repeating a phrase, that's probably him.
Laura Cortese & The Dance Cards
Expanding on the boundaries of what an indie-folk band can be, Laura Cortese & the Dance Cards take their extensive string music background, add their knowledge of folk and roots music, and incorporate an edgy pop sensibility to create their latest album, BITTER BETTER. A stunning lesson in all the ways string instruments can be played – bowed, plucked, percussively – the album showcases Cortese and multi-instrumentalist producer Sam Kassirer (Lula Wiles, Lake Street Dive) striving to capture the most adventurous approach to each moment. The result is an album that incorporates dance-worthy foundational grooves, synth, and loops to push the boundaries of the genre. BITTER BETTER was released on JULY 17, 2020 on Compass Records and the band has been invited to support The Mountain Goats on summer US tour dates.