Bridge City Sinners
Tejon Corner Street Thieves, World/Inferno Friendship Society
Black Sheep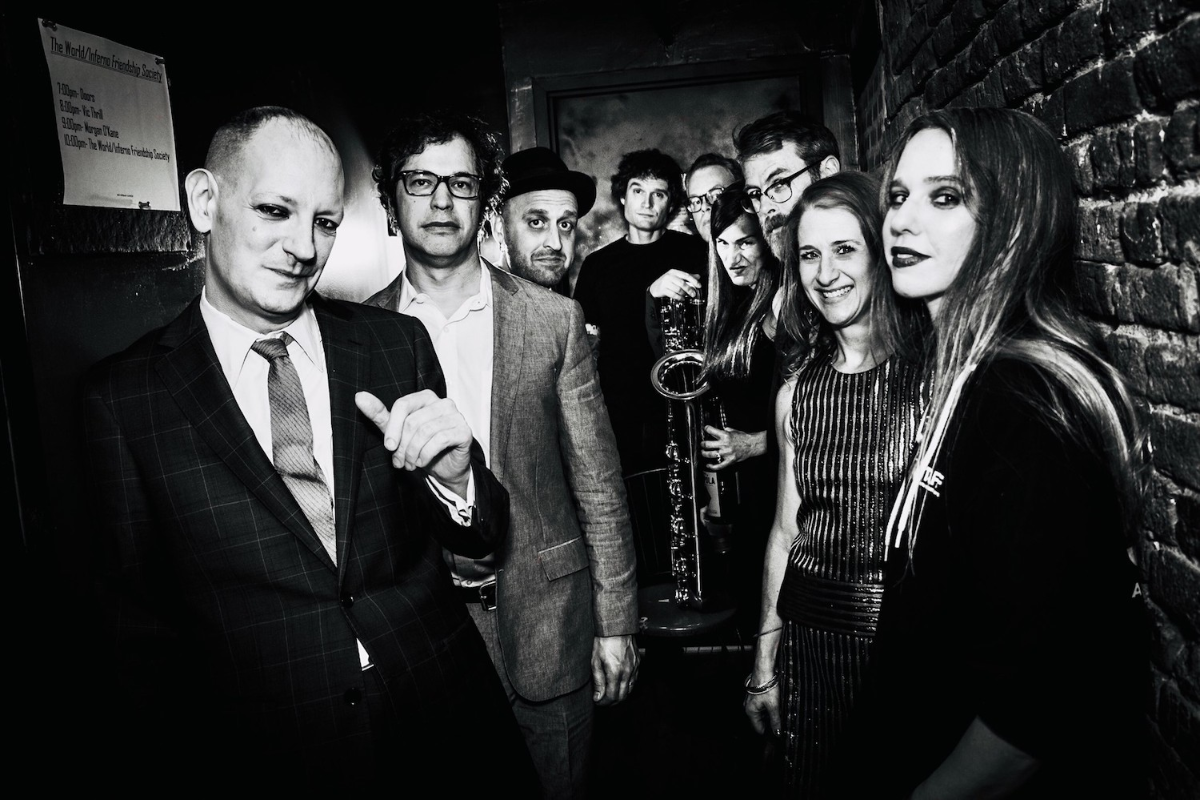 Artists
Bridge City Sinners
This is not your Grandparents' folk music. The Bridge City Sinners take folk songs in the direction of a punk rocker. A rowdy folksy mosaic of banjo, violin, guitar, mandolin, upright bass, & ukulele. The Sinners started their journey as a rotating cast of friends in 2016 who just wanted to play music on the streets "busk" in Portland, Oregon. They have transitioned into a powerful force playing festivals in 2018 such as Vans Warped Tour, NW String Summit, the Fest, & Seattle Folklife Festival.
Before the Bridge City Sinners, lead singer Libby Lux and upright bass player Scott Michaud infrequently started playing music together on the streets of Portland, Oregon over eight years ago. Without rehearsal, nor a plan, a few times a year they would meet up with other various street musicians to sing and yell at passer byers. Years before that, on their separate journeys, they traveled, hitch-hiked, and howled at the moon across the United States, Canada, and Mexico. In hobo fashion, they earned what they'd eat and roofs over their heads by the papers and coins tossed into their hat.

Through their years of wandering, they were able to pick up a rich catalog of songs passed through the traveling / busking community. In 2012, their mutual best friend and lead singer of folk-punk band Profane Sass, passed away when he fell off a train in Pittsburgh, Pennsylvania. In a way the Bridge City Sinners are a homage to keep his spirit alive and continue passing along the music they all sang together on the streets, hidden in trains, and in living rooms across the continent. They formed the Bridge City Sinners in the Winter of 2016.
Tejon Corner Street Thieves
The Tejon Street Corner Thieves hail from the Colorado Rockies. The outlaw blues and trash-grass pioneers forged their original brand of whiskey roots from the ground up. Honing their craft on the streets, they swiftly gained recognition from the music community with the 2015 Gazette "Best of the Springs" award, 2017 Pikes Peak Art Council "Best In Show", and 2018 and 2019 Colorado Springs Independent "Best Original Band".
As an internationally touring act, the band has become notorious for their shenanigans and over the top live performance. TSCT's consistent show schedule and heart filled showmanship has captured the hearts of show goers everywhere. These guys are wild.
CornerThieves.com
World/Inferno Friendship Society
Chapter 1
It was the fall of 1997 and I was living alone in a small basement flat in what was then an unfashionable corner of Brooklyn. The building was owned by an older Italian couple who knew my family name from a chain of funeral homes my great aunt and uncle had owned in New York during the Fifties which, seeing as most of the neighborhood had gone Polish in the intervening 40 years, they saw as a good sign and took me in at a modestly reduced rate.
I had recently come out of a bad breakup and, as is so often the case, most of my friends had turned out to be in fact her friends. So solitary my life had become that year that when my doorbell rang early one evening in October, I at first could not quite identify the source or meaning of the sound. After a few minutes of intermittent buzzing, I found my way to the hallway and eventually the door. "Sir," said I, "or Madam, truly your forgiveness I implore. But the fact is I was napping, and so gently you came tapping, tapping at my chamber door, that I scarce was sure I heard you." Here I opened wide the door...