DJ Noiz
Kennyon Brown, Bina Butta, Box State Roots, DJ Papu
Black Sheep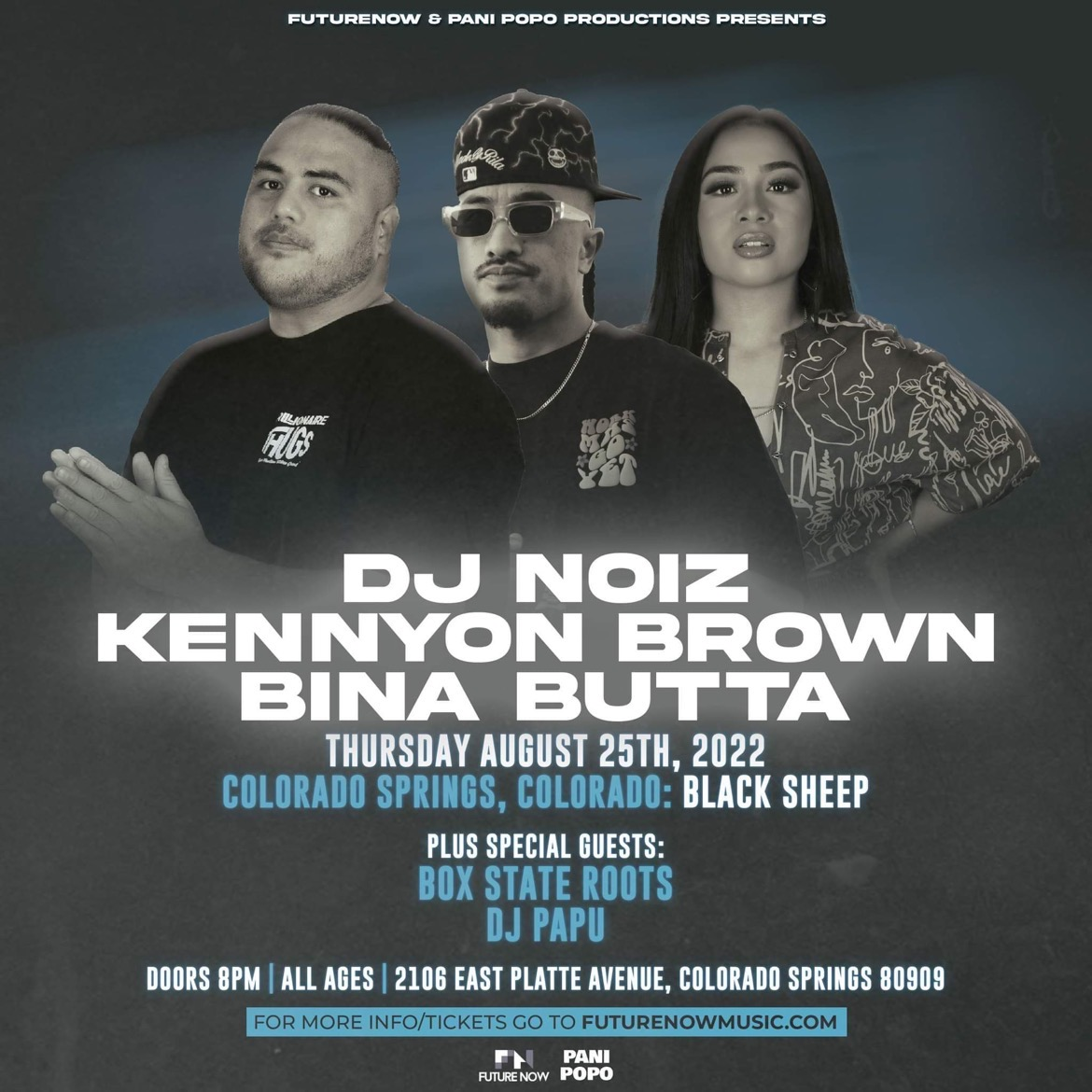 Additional Info
FutureNow Music is excited to announce that The Remix King DJ NOIZ and, frequent collaborating, R&B star KENNYON BROWN are returning to the USA this August accompanied by up and coming female sensation BINA BUTTA.
Off the back of their successful collaboration & hit record "LADY LOVE", star siblings Kennyon and Bina will be joining forces for an amazing live show. They'll be accompanied by the always solid DJ NOIZ who, in the last few years, has had massive success with his remixes "Neon Moon", "Whole Vibe", "Still The One", "Dutchie", "Island King" and originals "Amelia" and "Throw It Back" plus more. Kennyon Brown delivered his debut, full length, solo effort in December 2021 titled: "Kenny Hendrix", which spawned R&B bangers "Beretta" and "2 Seconds". Couple that with his collaborations with Noiz and you're in for a treat with these live shows. This tour sees Bina Butta appearing as a performer in the USA for the first time. We're excited to showcase her music to US audiences, no doubt she will have the crowd in the palm of her hand while she performs her hit single "Lady Love". Joining this already mega line-up will be a showcase of selected local artists in each region across the USA and Hawaii - so don't sleep and get your tickets from futurenowmusic.com now!
Artists
Box State Roots
Starting with only 4 members in June 2021, with their first show being in a garage, the Box State Rootz has grown into a 9 piece group that has given the Colorado Springs Pacific Islander community their first homegrown band. Reggae, Calypso, Hip Hop, R&B and Country mixed with Pacific Islander vibes are the influences for what is called Island Reggae. Box State Rootz is proud to represent everyone who has made Colorado their home and will continue to bring a taste of Island Reggae to Colorado.