94.3 KILO Presents
Diamante
Eyes Set To Kill, Letters From The Sun
Black Sheep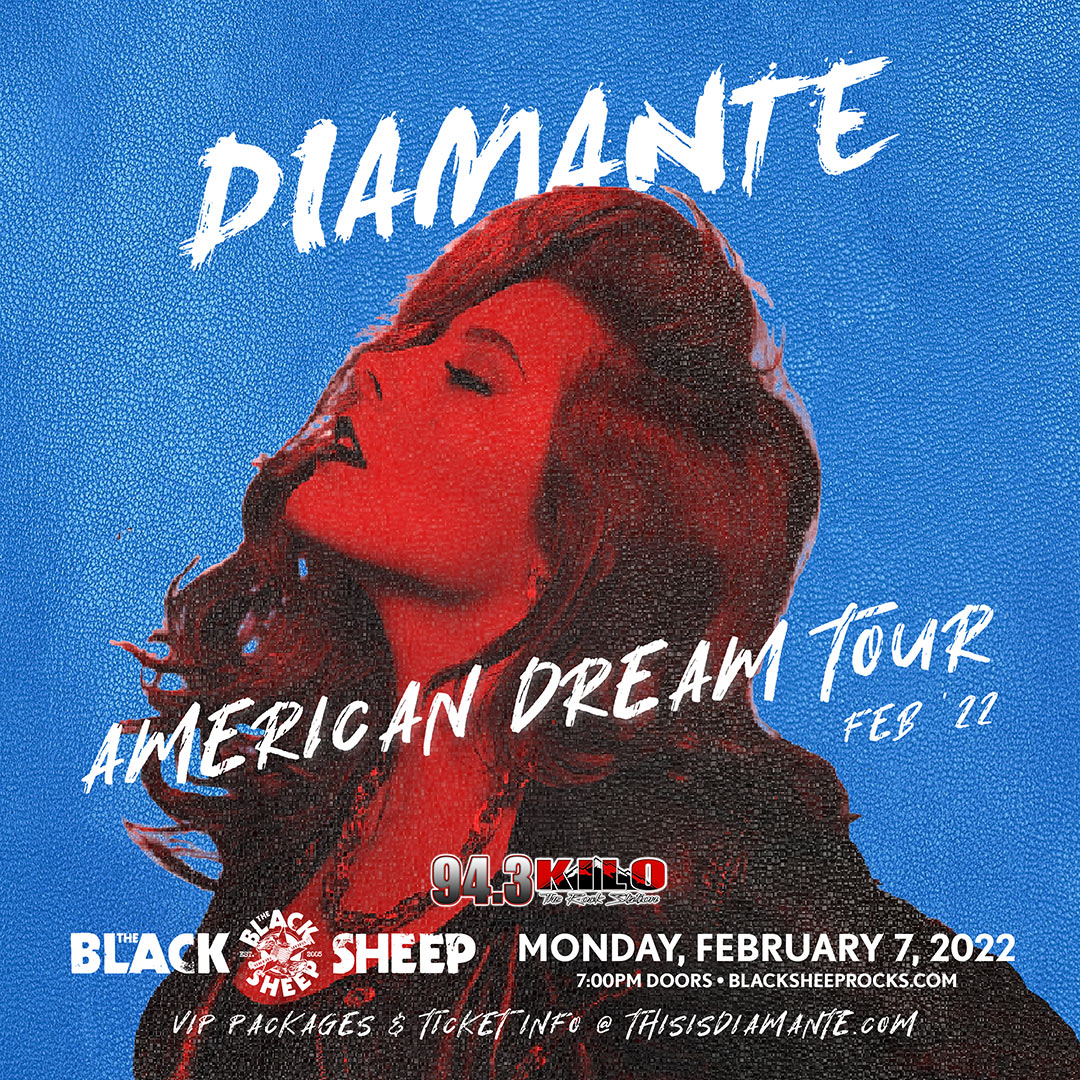 Additional Info
VIP UPGRADE AVAILABLE!
This is an UPGRADE ONLY. A General Admission ticket will need to be purchased to attend the show.
The Diamond Package – Includes a two song private acoustic performance from Diamante, a tour poster, and Meet & Greet.
Artists
Diamante
Diamante knows what it means to truly shine. With iridescent sapphire hair, a show-stopping voice, runway-ready fashion swagger, and an empowering message, the Boston-raised and Los Angeles-based Mexican-Italian-American siren brings a new (and blue) fire to rock and alternative music.
Diamante spent her teenage years cutting her teeth at local gigs on the Sunset Strip to become the powerhouse performer she is today. A disciple of both P!nk and Guns N' Roses who doesn't fall into rockstar excess or even sport tattoos, she devoted every waking minute to honing a signature "hard rock sound with a modern alternative edge."
After extensive touring with bands like Breaking Benjamin, Three Days Grace, and Shinedown… Diamante is in full force shining brighter than ever before. In 2019, Diamante teamed up as an independent artist with Howard Benson and Neil Sanderson to make her sophomore album, American Dream. Diamante capitalized on her newfound ultimate creative freedom and independence by being her own CEO throughout every facet of the album process. On working with Benson and Sanderson, Diamante praises that they were instrumental in "bringing my stories to life and pushing me to embrace my vulnerabilities". American Dream shows exponential growth, proving now more than ever that Diamante's fearlessness to bear her soul in her music is what truly sets her apart.
Eyes Set To Kill
Formed in 2004 by sisters Alexia and Anissa Rodriguez, Arizona's Eyes Set to Kill set out to create their own take on the screamo genre. To fill out the lineup, vocalist and guitarist Alexia Rodriguez and bassist Anissa Rodriguez recruited vocalist and synth player Brandon Anderson, guitarist Greg Kerwin, and drummer Caleb Clifton. The group combines the driving emotion of Thursday and Thrice with technical hardcore reminiscent of Walls of Jericho and Poison the Well. The result is a fusion of the heavy and the melodic, with Alexia Rodriguez's vocals soaring high over the thunder of chugging guitars and Anderson's tortured screaming, creating a sound that expands the boundaries of the genre, moving away from the screamo blueprint. The year 2006 was a busy one, with the group self-releasing the EP When the Silence Is Broken the Night Is Torn as well as playing dates on the Vans Warped Tour. In 2008 the band released its full-length debut, Reach, on Breaksilence Records, and set out on a nationwide tour in support of Otep. The group's third studio outing, Broken Frames, arrived in 2010, followed by White Lotus in 2011. ~ Gregory Heaney
Letters From The Sun
Letters From the Sun. A story of us, our history, our pain, and our compassion for life. Sent through the universe to all the stars. Colroado Springs alternative rock.