Strong Survive & BKG Presents
Krizz Kaliko
Black Oxygen
Black Sheep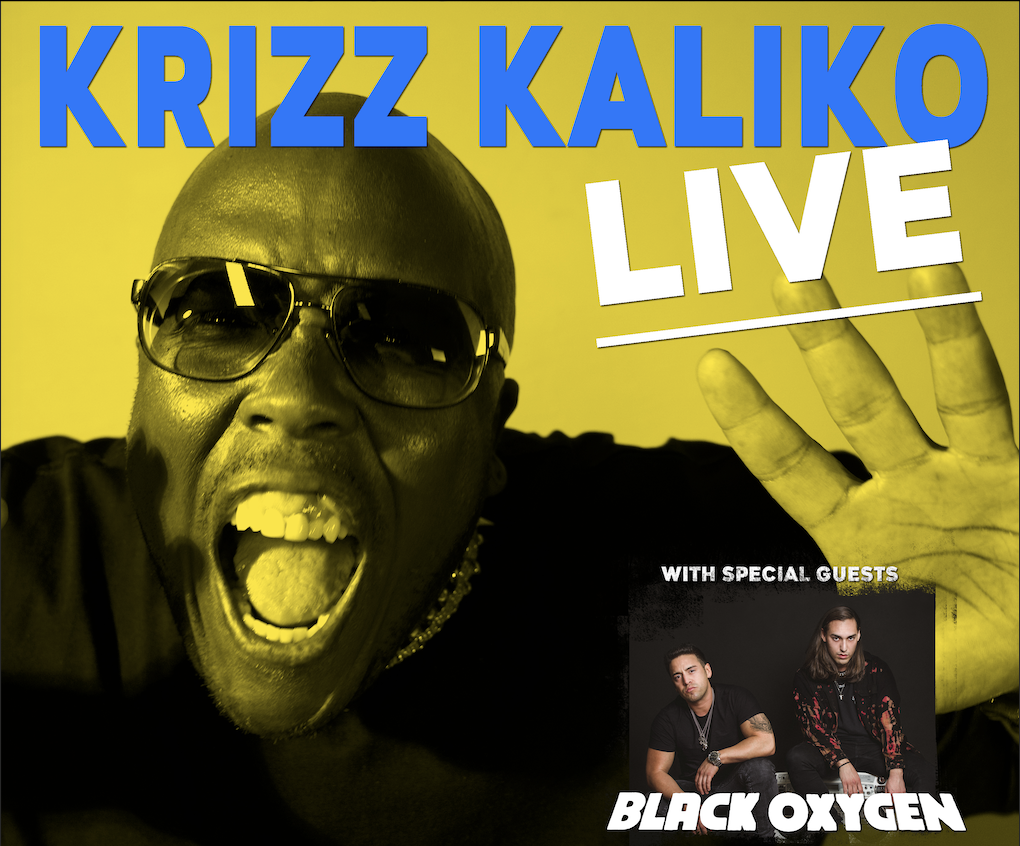 Artists
Krizz Kaliko
Rapper, vocalist, philosopher, jester, and truth-teller: Krizz Kaliko is a profoundly significant and much-loved musical icon. Millions of online engagements and monumental social media metrics signify legions of devoted followers who are captivated by his ceaseless flow of videos, social media posts and tracks.
With the launch of Ear House Inc., his independent record label, his destiny is now transformed. Staging an online extravaganza titled "The Reveal," Krizz ushered in this new era with a historic event hosted from his hometown, Kansas City, MO. Like everything that he does, the impact was colossal: Part live concert, part documentary, and all Krizz Kaliko.
For his Ear House Inc. debut single, "Weight," the video promo opens with an image he duly describes as, "My fat nekkid body." But this message conveys a serious message of body positivity. "Being comfortable. Taking the risk of being seen," he explains. "If I can do it, you can definitely do it." The word "weight" has multiple implications. "My battle with mental health, society looking at me like they do, being overweight, and also the weight of my life pressing on me," he notes.
​While he writes and performs plenty of what he deems "Ass shaking music," introspective themes are his trademark. His expansive artistry embraces hip-hop, R&B, indie-rock, metal and pop, with trace elements of gospel and opera embellishing the mix. Given his dizzying lyrical flow as a rapper, his emotionally expressive tone as a singer serves as a dramatic counterpoint. This mastery of musical genres corresponds to a fearlessly creative approach, as a complete collection of Billboard charting full-length and EP releases -- from his 2008 debut, Vitiligo through 2020's Legend -- confirms.
An explosive live entertainer, Krizz emulates the grandiose entrances of Worldwide Wrestling stars. As a longtime member of the Strange Music family, he is a bravura performer, featured with the label's founder, Tech N9ne at over 220 concerts per year. It all came to a halt in the lockdown months, as concert venues were shuttered.
After nearly two decades on the road, life was transformed. "When it first happened I was wondering: How can I be around my family everyday? But being my wife's husband and my kid's dad is the most important thing there is," Krizz avows. "I don't miss doing a million dates in a row. It's a unique life: whether you are an athlete, a musician, a military person, a circus act or a stripper – we all live the same."
Fans of Krizz Kaliko is a Facebook forum where Krizz's followers -- "Kalikoholics" --correspond with him, with each other, and share photos of their emblematic Spider K tattoos, symbols that underscore the impact of his music on their lives. "Without those songs to get me through my dark times, and help me feel I was worth something, I don't know where I'd be today," testifies one post.
With disarming sincerity and a penchant for sharing the most ominous shards of his psyche, Krizz Kaliko extends an indelible thread, an embracing empathy that elevates his listeners as it befriends and comforts them with the assurance that they are not alone. And as his career advances to the next level with Ear House Inc., the message and the music confirm the magic - his songs save lives.
Black Oxygen
Formed in Kansas City by David Lyle now based in Los Angeles, Black Oxygen's constant success and growth comes from a combination of hard work, musical talent, and drive. This is achieved by frontman David Lyle (Singer/Songwriter/Lead Guitarist/Producer), along with his brother, Nick Lyle (Drums/Songwriter/Programming/Background Vocals/Producer).
2010 – Black Oxygen caught the attention of music industry specialists in Atlanta after winning 1st place in Battle of the Bands/Club Wars in the midwest and David Lyle winning Banzai's Outstanding Guitarist. Shortly afterwards, David was invited by record industry professionals to Los Angeles to experience the process of actor/musician Jamie Foxx's album being produced and recorded, where he was introduced to many more industry professionals and music producers.
Fall 2011 Black Oxygen was invited to perform the National Anthem at Arrowhead Stadium in Kansas City, opening the game to a huge crowd for NFL Football rival teams Kansas City Chiefs & Oakland Raiders. During that same year Black Oxygen was also spotted by former Strange Music artist Kutt Calhoun, and together they released a collaborative track, "Pressure."
Early 2012 Black Oxygen released their debut album "The American Dream." The first two singles, "Take It to the Limit," and "The American Dream" reached #59 and #48, respectively, on active rock radio charts. "Take It to the Limit" was also used by ESPN during broadcast and "The American Dream" made it to #12 on the Billboard Hot Single Sales chart. All the music videos for "The American Dream" album helped launch Black Oxygen.
In 2013 Black Oxygen was constantly on the road touring across the country.
During 2014 they released their sophomore album, "Beating Time" on their own independent label, Dreamstreet Records. The lead single, "Livin' the Life" went on to reach #14 on active rock radio charts. The corresponding video on YouTube has earned over one million views. The track was also used by the MLS for Sporting Kansas City, as well later used by the NFL Network in 2017 during the Kansas City Chiefs vs. Pittsburgh Steelers Divisional Playoff game. That same year they joined with rapper, Irv Da Phenom, and released a single titled "Madman," which premiered along with its music video on HipHopDX.
2015 – Black Oxygen completed their music videos for their album "Beating Time". They have toured over 200 shows in the US, one of the highlights being Rockfest in Kansas City, a one day music festival of over 55,000 people. Black Oxygen's music videos have been played on MTV and several other top media outlets.
2016 – Black Oxygen released a single and music video for "Whole Thang" featuring rappers, Kstylis and Kutt Calhoun, that was well received by the public.
2017 – David and Nick Lyle attended the Grammy Awards Ceremony in Los Angeles, becoming a recognized name in the music industry. They released three studios Singles, two of the Singles with music videos "A Step Away", "Speeding Bullet" dedicated to Paul Walker and "On That Vibe" featuring Navé Monjo on 300 Entertainment. They followed up the year strong doing over 1 month of shows on the "Make America Rock Again 2017 USA Tour" and they played their first arena performance.
2018 – Black Oxygen released their New "City Of Angels" EP and a music video for track "Rockstar" Post Malone ft. 21 Savage cover that has earned over 1 million views worldwide! They also released "Rockstar" due to its success as a Single supported by select radio stations that begin to spin it out of high interest. Black Oxygen Signed with Curtain Call Records/The Orchard/Sony Music Entertainment. David and Nick Lyle also made cameo appearances in artists Kevin Federline, Famous Dex and Kevin Gates music videos.
2019 – Black Oxygen released a Single/Music Video "Drop It" featuring rap legend Tech N9ne. They also released their first Official Signed Album "The Times of Our Lives (Collection)" on Curtain Call Records/The Orchard/Sony Music Entertainment. The hit Single/Music Video "Everything" was #1 on the Rock Radio Chart in the US for most adds and also on top of the Billboard Mainstream Rock Chart. The video gained 1 million + views. A special (Deluxe Edition) version of the Album was also released with 27 tracks total. Black Oxygen joined forces with Shifty Shellshock of Crazy Town (Platinum Recording Artist) on a collab Black Oxygen feat. Single/Music Video "Burning Into the Night" and did a US-Canadian Tour together. Black Oxygen also appeared on FOX TV performing their hit "Drop It". The bands "The Times of Our Lives" 2019 Tour ended at a SOLD OUT show at the World Famous Whisky A Go-Go in their home Los Angeles, CA.
2020-21 – Black Oxygen released New Radio Single/Short Film/Music Video "Life Is Beautiful" that was an Official Selection of the Hollywood Film Festival, Film Produced by Tip-Top Productions. The release came out under Curtain Call Records/The Orchard/Sony Music Entertainment. Starring David & Nick Lyle, Danny Trejo, Tasha Reign, Sid Mallya and STRETCH. The Single hit the top of the Rock chart at #1 and #3 on the Billboard Mainstream Rock chart. The film featured the band's new creation of their "Bangin' BBQ Sauce" collaboration with iconic food chef STRETCH of the famous restaurant Grinders KC seen on Food Network. Their sauce was Awarded 4th place in the country by the National Barbecue & Grilling Association also featured in Rolling Stone & New York Magazine and is in stores across the US such as Walmart and Scheels and more. The short film has hit 2 million + views marking their highest viewed video to date. They also released a special Remix of "Life Is Beautiful" featuring Krizz Kaliko. Follow Black Oxygen on Facebook, Twitter, Instagram, Snapchat and Subscribe to their YouTube channel! All of Black Oxygen's music is available in all online stores and streaming services worldwide. Bangin' BBQ Sauce/Merchandise available at blackoxygenmusic.com.