103.9 RXP Presents
Jarrod Gipson
The Brkn
Black Sheep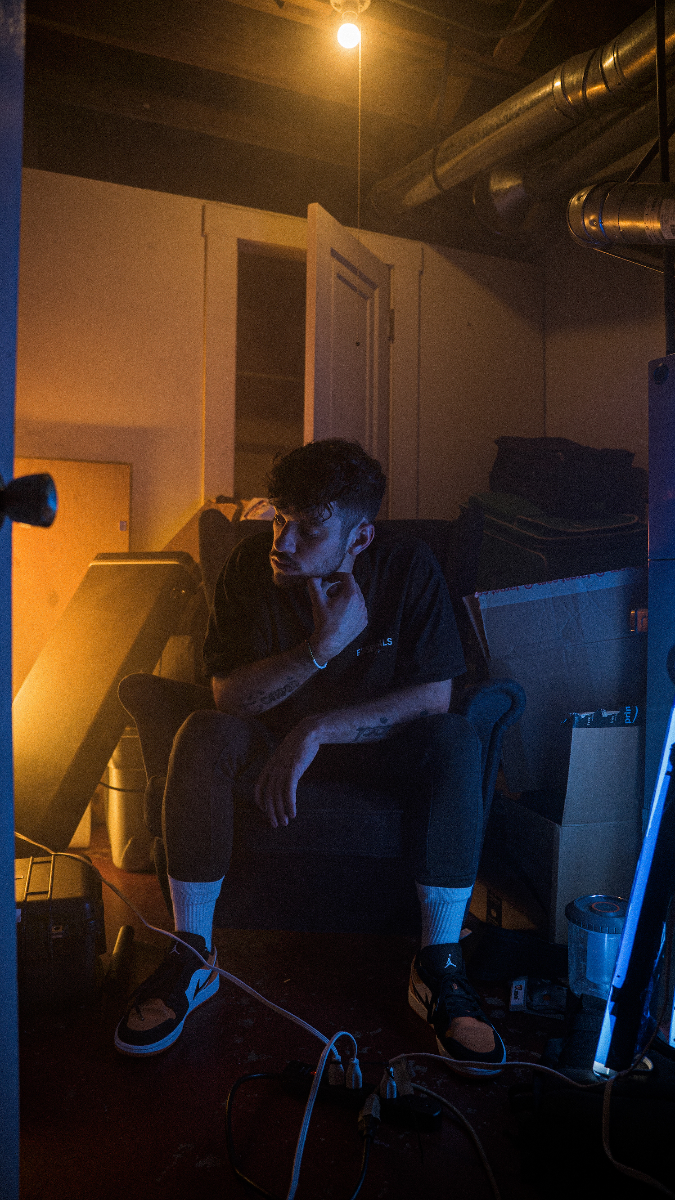 Additional Info
Doors: 7:00pm
Show: 8:00pm

Artists
Jarrod Gipson
Some view vulnerability as a weakness. Folks who fit into this category would rather construct walls to conceal how they feel than reveal how rudderless they really are in real life. Not Jarrod Gipson. For him, being vulnerable is his strength, his superpower. And fearlessly filleting himself without a filter is precisely what makes his music so riveting and relatable.
"I'm trying to create something that can really connect with people and give them hope, from somebody who's been there and understands loneliness and hardship," the aspiring Colorado-based songwriter explains. "I just want people to know that they're going to be okay because I didn't think I was ever going to be okay. I know loneliness well. So I'm going to give people vulnerability and intimacy that they can connect to. That way they can have something that they need."
Gipson makes good on that aim on Heart Eyes. Cycles. Clear Mind., his striking seven-song debut. With a voice as unique and distinctive as the spelling of his given name, Gipson's penetrating brand of pop will intuitively appeal to fans of acts like Sam Smith, Jarryd James, and Shawn Mendes.
Meandering through a minefield of emotions, Gipson offers up a series of songs that rummage through the remnants of a ruinous relationship with a disarming earnestness and seismic self-awareness. Over the course of seven songs and thirty minutes, Heart Eyes. Cycles. Clear Mind. tells the story of an illicit love affair from the perspective of a paramour who is stranded by his passion and the tempestuous emotions he feels as he moves through it and deals with the aftermath.
An auspicious display of art from an artist who has barely gotten started, Heart Eyes. finds the burgeoning songwriter perfectly poised to make his mark. Although a seasoned musician who played in numerous bands before breaking out on his own, Gipson has only been writing songs for a couple of years. Before becoming a burgeoning songsmith, Gipson got his start playing drums as a precocious toddler banging on pots and pans. By the age of ten, encouraged by his father, an accomplished musician himself and his endless champion, Gipson began performing professionally, first in church bands and then in local groups.
By his late teens, Gipson was on his way to becoming a prodigious timekeeper when then his father, an overwhelmingly influential presence in his life, passed away unexpectedly while Gipson was on the road. The profound loss sent Gipson spiraling for a few years. That reckless era lasted for a few years and was punctuated by paralyzing bouts of sleeplessness during which Gipson lost a lot of friends and shifted his focus strictly on songwriting as a way of helping himself cope and heal.
"Music was and always has been my escape, my safe place," Gipson explains. "I had insomnia, massive anxiety, and I couldn't figure out what was going on inside me. But whenever I would just play piano—playing piano is a generous term because I didn't even know how—but whenever I would sit down and kind of fiddle around and sing how I was feeling that's when I started really thinking, 'Oh, well, this could be something.'"
Clearly the time and effort paid off. With the help of his collaborator Tyler Cuchiara—whom Gipson credits with being indispensable in helping him shape his sound—Gipson delivered a set of music that is equally as captivating lyrically as it is musically. Though not necessarily a concept album, Heart Eyes. Cycles. Clear Mind. showcases notable thoughtfulness, from subtle touchstones embedded in the album art to the song cycle, which hangs together evocatively with a concise cohesiveness.
On "Complicated," the album's centerpiece and standout track, for instance, Gipson taps into the smoldering exasperation he feels when the verboten situation he finds himself in as it starts to sour. Mired in the incisiveness of irresistible infidelity, he sings "It's so complicated, the love we've painted/Can't stand letting you down, but I'm fuckin breaking," before wondering aloud a few beats later if "Am I sticking around just cause I'm scared to leave/Am I choosing the route that's safe and easy/I'm walking away, but god please turn around/I want to love you, but I don't know how" on the subsequent song "Fragments."
The rest of Heart Eyes. Cycles. Clear Mind. is equally as captivating and serves as an exhilarating outing from an exciting new artist. If you prefer your pop to be as poignant as it is thought-provoking, Jarrod Gipson is an artist to follow closely.
The Brkn
The BRKN
Come Outside

Much like close friends, we lean on records when we need them. They comfort us, console us, change our moods, and cheer us up. In similar fashion, The BRKN will be there for you. The Denver trio—Jacob Cade [vocals, guitar], Mike Bokenkamp [drums], and MJ Younkers [guitar]—wrap energetic pop in warm synths, straddling punk, alternative, indie rock, and electronic all at once. At the same time, ponderous and poignant lyrics seamlessly tie the vision together. After independently amassing hundreds of thousands of streams and receiving acclaim from American Songwriter, New Noise Magazine, and more, the band issue an invitation on their 2021 independent EP, Come Outside.
"We want you to know we're going through the same things you are, and we're your friends from far away," exclaims Jacob. "I'm so passionate about music because it's the only thing that made me feel less alone. When you're sad or alienated, music will be there."
As the story goes, Jacob and Mike originally met in church. Jamming together in worship group, they bonded over not just music, but skating as well. Jacob initially made a name for himself with a series of solo releases as he played on stacked festival bills and collaborated with the likes of Halestorm's Lzzy Hale and Joe Hottinger in the studio.
The BRKN released their debut EP No. 3 in early 2020. Among numerous fan favorites, "Your Existence" amassed over 129K Spotify streams.
MJ came into the picture after being asked to tour with the band as a guitarist. After one date the world went into quarantine due to Covid-19. At that point MJ was asked to join the band full time and with the new lineup came a new musical direction. The BRKN kicked into high gear. Stuck at home and afforded the time to experiment, the three-piece stretched the boundaries of their signature style. Nodding to influences such as Prince, Michael Jackson, and The 1975, they seamlessly integrated synths into their sonic palette as they worked out of Jacob's cozy bedroom studio.
"For as synth-y and poppy as the sound is, rock always finds its way into what we do," Jacob smiles.
The BRKN brought those initial ideas to Nashville where they finished up the EP with producer Mason Maxwell. They paved the way for Come Outside with "Be Cool," "Calm Down," and "Lovers." On the single "Lost Boy," the musicians perfect the balance between neon keys and thick rhythms as Jacob's voice echoes on the dancefloor-ready hook. Right out of the gate, New Noise Magazine described it as "filled with great grooves, tight production, and melodic pop charm."
"I was inspired by The Lost Boys movie," Jacob elaborates. "The song goes in a bunch of different directions. It's my kind of love story because the girl falls in love with a vampire. They don't stay together. Every time he sees her, he gets the same feeling of a broken heart though."
Meanwhile, "Fake Love" struts forward on a wild and uncontainable guitar riff before snapping back into another bombastic refrain. "It's my thought process on people who want to be your friend for untrue reasons," Jacob says.
On the other end of the spectrum, "Therapy Session" moves like a sunny and upbeat bop but cuts much deeper. "It's written as a conversation about why love is not going well for me," Jacob adds. "Our vibe is ultimately fun, but nihilistic."
That singular spirit becomes cemented in the EP title, Come Outside.
"When we were in Nashville, I was having a bad day," Jacob admits. "I sat outside, cracked a beer, and looked up at the stars. My thoughts got louder. I asked, 'Why am I here?' So, I opened the sliding door and yelled to Mike and MJ, 'Come outside!' I set up three chairs and told them about my whole life and why it led me to creating in brutally honest detail. It was where all the songs came from."
By opening up in these songs, The BRKN present the kind of human connection you'd only forge with your closest friends.
"Having these songs done and ready to go out into the world is so exciting. The work and time we've put into all of them is reflected in the final products. Each song is an expression of an emotion that we have each felt, so playing the songs is a fun cathartic experience that I look forward to people connecting to. Music is a wonderful expression of feelings that can't be said. I can't wait for people to listen to all of these and to feel those emotions that are baked into each song," says MJ.
"I just really hope they make a difference in people's lives. I hope they inspire, comfort, and give life to those who hear them," adds Mike.
"When you hear this, I'd love for you to find peace," Jacob leaves off. "I also want you to know you're not alone. Everything is going to be alright. So, we're giving you music to enjoy life to."