Entre Nos
Aida Rodriguez, Erik Rivera, Orlando Leyba
Black Sheep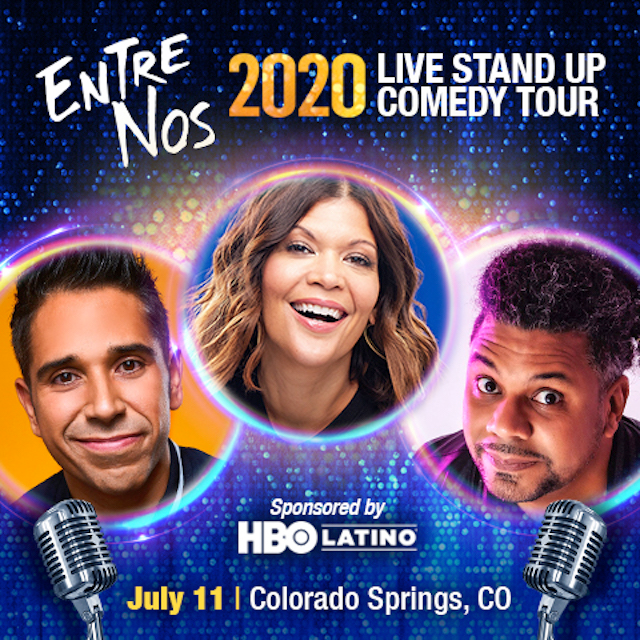 Additional Info
ENTRE NOS 2020 LIVE TOUR Sponsored by HBO featuring
Aida Rodriquez
Erik Rivera
Orlando Leyba

VIP MEET & GREET
VIP tickets will be for a VIP Meet & Greet with the artists, and a VIP tour laminate
Artists
Entre Nos
HBO Latino's successful "Entre Nos" comedy series is going on the road for a LIVE 25+ city nationwide tour. Kicking off on February 20, 2020 in San Diego, CA, the "Entre Nos" LIVE tour will feature some of the hottest Latinx comics from the "Entre Nos" roster including Aida Rodriguez, Orlando Leyba, Erik Rivera, Nick Guerra and Jerry Garcia. Sponsored by HBO Latino, the tour will also feature one local comedian from each market to help continue the search of up and coming Latinx talent.

"Based on the successfully proven HBO programming of "Entre Nos," the live comedy tour is a natural progression in this groundbreaking experience where top Latinx comedians have a platform to appeal to mainstream audiences," says Victor Elizalde, "Entre Nos" Co-Producer.

In November 2019 HBO Latino released Erik Rivera's English-language comedy special Erik Rivera: Super White. Nick Guerra's half-hour special Nick Guerra: Love Me at My Worst will air on Friday, March 20, 2020 across all of the channel's platforms including HBO NOW®, HBO GO®, HBO On Demand® and partners' streaming platforms. Comedy fans can also catch up on Entre Nos: Part 1-4, Entre Nos: A Stand-Up Comedy Special, Entre Nos: Spot On, Jerry Garcia: It's Not My Weekend, Orlando Leyba: Adorable, Gina Brillon: Easily Offendedand Entre Nos: About Last Night now available on all HBO platforms.
Aida Rodriguez
Aida Rodriguez is a new Afro-Latina, taking the world of entertainment by storm with her wit, strong performances, and charismatic personality. Aida recently filmed a comedy special for Netflix as part of a new standup series "She Ready." She made history as the first Latina to appear in two specials air in one month on both HBO and Showtime. She was handpicked by director Taylor Hackford for his film "The Comedian" starring Robert De Niro. In 2017, Coca Cola Global Women's LINC Conference sponsored Rodriguez's speech that modeled a TED Talk. Rodriguez has also appeared on Comedy Central's This Week at the Comedy Cellar, The Nightly Show, five-time host of the PBS Imagen Awards, NBC Last Comic Standing's finals, TRUtv's Laff Tracks, Fox Laughs, Nickelodeon Mom's Night Out and Parental Discretion. This summer, Aida will be releasing her first Netflix special, as part of Tiffany Haddish's They Ready series. She is also a regular contributor for The Young Turks.

Aida Rodriguez wears many hats as comedian, actress, writer and mother. Sharing her point of view of the world, she writes comedy that is poignant and incisive. Her audiences often laugh hard, think hard, and feel hard as her comedy is cathartic and confrontational. Known as Funny Aida, Rodriguez aims to challenge the norms of today and the discomfort or taboo-quality around controversial topics like race, gender, sexuality, and family dynamics through her comedy. From the moment she takes the stage, the audience is engaged whether in laughter or in thought. Rodriguez's comedy is not only medicine for the soul, but it may one day just change the world.
Erik Rivera
Just back from his appearance at the prestigious Just For Laughs Festival in Montreal, where he was hand selected to perform for Kevin Hart's Laugh Out Loud Network, Erik Rivera keeps making his mark on the stand up comedy scene. Since his Late Night debut on the Tonight Show with Jay Leno, a recognition that has been a springboard to many comedy greats, Rivera has become a familiar face on television. He was then chosen as one of the Top 100 comedians to be invited to perform in the re-launch of NBC's Last Comic Standing. In 2015 Erik got to cross off another comedy milestone when he recorded his debut 1 Hour Comedy Special, "I'm No Expert" which is available on iTunes & Amazon. Last year Rivera was cast to star alongside Brandon T Jackson and DeRay Davis in Oxygen's docu-series "Living With Funny" - a look at life off stage for the touring comedians. Recently he co-starred in CBS's most talked about episode of Superior Donuts, where they tackled the current state of immigration in the United States! 2019 is starting off with a bang as Erik will be featured in HBO/HBO Latino's "Entre Nos" stand up comedy showcase, highlighting the nation's funniest Latino comedians!